ALSO AVAILABLE FROM THE DIRECTOR OF HAND OF GOD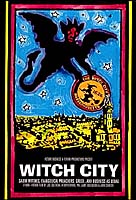 WITCH CITY
Told from the perspective of a returning native,
WITCH
CITY
is an uncompromising documentary about
Salem
,
Massachusetts
, a town that put the phrase "witch hunt" into the American vocabulary and a place where today a Disneyesque version of history serves the purposes of both commercial and religious interests. Filmmaker Joe Cultrera returns home to find a place where the historical facts are sensationalized for the benefit of T-shirt hawkers and wax museum owners. New Age Wiccans (witches) make the pilgrimage to
Salem
, and evangelical Christians use street theater to wage a fire and brimstone war against them.
WITCH
CITY
is a cautionary tale about the consequences of manipulating historical facts for present-day gains.
Go to the WITCH CITY Website
"told in a zesty comic style, which remains bouncy even when the humor gets scabrous."
John Kotch, THE BOSTON GLOBE
"a sad, funny and revealing look at how Americans honor their history"
VIDEO LIBRARIAN
55 minutes - DVD - Produced 1997



LEATHER SOUL: Working for a Life in a Factory Town



The rhythmic grind of machinery, the breath of smokestacks, the cacophony of immigrant language all came to define a unique landscape that was the American factory town. Narrated by Studs Terkel, LEATHER SOUL brings viewers back to a time when America's work ethic was forged, and into the present where technological progress has torn apart the fabric of communities.

The story of the evolution of Peabody, Massachusetts' leather tanning industry - where a workforce of 20,000 has dwindled to less than 400 - becomes a specific focus that gives insight into a larger picture.

Through tightly woven montage and the pragmatic recollection of workers, LEATHER SOUL paints a vivid and poetic picture that plainly shows the undeniable and universal connection between work and quality of life.




"A sterling example of rescuing working people's history"
Pat Aufderhide, IN THESE TIMES

"Lovingly produced...this quickly paced program vibrantly examines a bygone era."
Sue-Ellen Beaurgard, BOOKLIST


46 minutes - Video. (27 minute version also available) Produced 1991